CareerMe is dedicated to helping you thrive in the world of work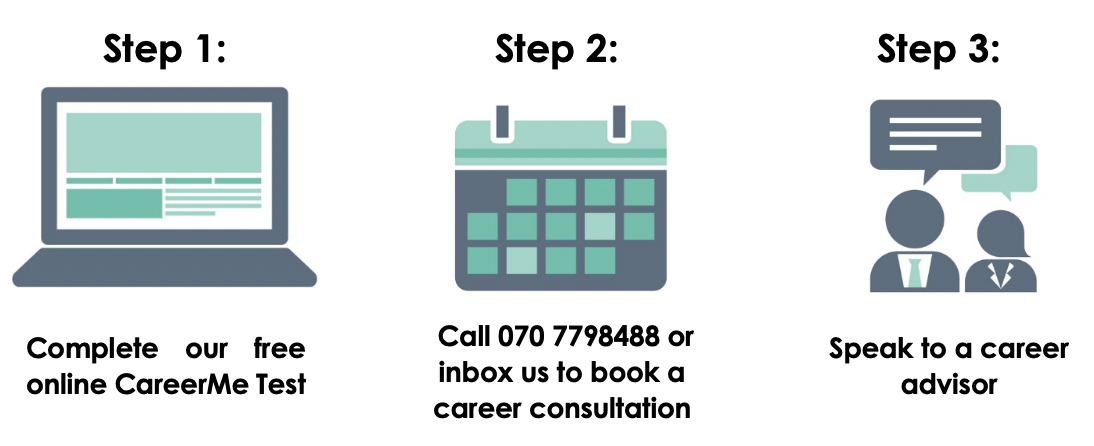 Whether you need help figuring out your career path, deciding what subjects or courses to do, or navigating the competitive job market, we are here to ensure you are well-prepared and make choices that are aligned with who you are.
Want to get career advise? Here's how you can get started:

Our services:

1. Career Advisory Sessions
We provide personalized career advice. Our team of professional career advisors will address your specific concerns in a confidential space and help you decide on a career path and assist you with education options. We are unbiased and provide objective, scientific guidance based on your online psychometric CareerMe test result.
O/L Student: Selecting the right subjects is really important to ensure it is aligned with what you hope to do after you graduate from school. We can help you decide what subjects you should do for your A/Ls based on your unique vocational personality, interests, and strengths.
A/L Student: Struggling with knowing what course or degree to follow? We help you gain clarity on the best stream for you and ensure it matches your long term career aspirations. It is wise to make a well-informed decision before you spend lots of time and money on a degree.
Job Seeker: Trying to understand what jobs to apply for or what industry to work? Speaking to a career advisor will help you clear up your career goals and show you the best way to apply for jobs.
Career Development or Career Change: We can facilitate your transition from one industry or job to another. Life is too short to stay stuck in a job you don't like. Let's change that!
You can speak to our career advisor via phone call, online, or meet in person.
2. Higher Education Placement
There is a sea of course and degree options available out there, it can be confusing to know which course or institute is right for you.
We make the process easier by providing you with personalized guidance and helping you understand the most practical and suitable course options for your career. As your career guidance provider, we have your best interests at heart and make sure you select the right course based on who you are and what you really want to achieve. Further, we will act as your career guidance and job search partner in your education journey.
3. Job Search
Finding the right job is not always easy. Job searching can seem like a job itself. We can help you with professional CV/resume writing, cover letter writing and interview preparation. Without mastering these components, it is hard to get your foot in the door for a great job opportunity. Taking the time to learn job-hunting skills will not only help you land a suitable job but you will also leave with life-long skills that you can use for future career development purposes.
4. Professional Development
In order to succeed in the modern world of work, you need to adapt to the changing work environment, cultivate the skills in demand, and stay current on industry trends. We help you identify how to upskill yourself to climb the corporate ladder, overcome career obstacles, and succeed in the workplace. Learn about the skills employers are looking for, and how you can grow both personally and professionally with support from CareerMe.
In addition to private clients, we serve schools, education providers, government bodies, professional organizations, and employers through our career services.